Retainers
The retainer is a removable appliance carefully designed to maintain the teeth in their corrected positions. It is important that it be worn according to instructions.
When do I start wearing retainers and for long?
Removing braces signals the start of the retention period of your orthodontic care. Please remember that this part of your orthodontic treatment is just as important as the active movement phase in determining the ultimate success of your treatment.
Once the teeth have been moved into their desired positions by braces or Invisalign, a period of time is needed to stabilize the teeth so that the surrounding bone and soft tissues can conform to your new dental alignment. During this time, you will wear your retainers to help stabilize and hold the positions of your new teeth while the new bone and soft tissues are being formed.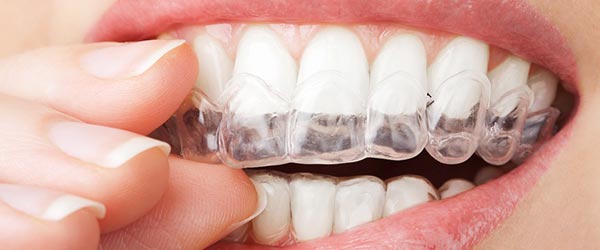 The final observation and retention period of treatment normally spans approximately two years. Usually, retainers are worn at all times during the first 3-6 months after braces are removed, except when eating, brushing, or flossing.
As retention continues, the retainers are generally worn at night for an additional year, and then progressively less as instructed. Each person's requirements are different and may be a longer period. Or, a different schedule may be recommended if facial growth is not complete.
We recommend that you continue to wear your retainers at night 3-5 times a week for life. As we get older, our teeth slowly shift forward and inward very slowly over the years. This movement can be prevented by consistently wearing your retainers throughout your life.
How long do retainers last?
A pair of upper and lower retainers is included in the treatment fee for orthodontic treatment at our office. A set of retainers can last several years, depending on how well you take care of them and if you do not lose them.
Your retainers will probably need to be replaced several times over the course of your life. Remember, to keep your smile looking as perfect as the day you completed your braces or Invisalign, you will need to wear your retainers consistently for your whole life.
If you lose or break your retainers, replacement retainers are available for a fee. You will need to come in to have a new mold taken of your teeth. The mold will be sent to an appliance lab, which will make your retainer in about one week.

There is a great new option for retainers called Vivera retainers, offered by the Invisalign company!
Unlike other traditional clear retainers, Vivera retainers are made with the same advanced technology as Invisalign aligners, resulting in a precise, smooth, and comfortable fit. They use 3-D digital imaging, proprietary thermoplastic material and state-of-the-art fabrication technology. This creates a strong retainer with an extremely precise fit and smooth finish that grips firmly and feels comfortable.
Vivera is the only orthodontic retainer on the market that does not require an alginate impression (mouth full of putty). Invisalign sends you 4 sets of clear retainers that are created from a digital intraoral scan. The 4 sets are sent to you every 3 months, and you can store them for future use. If you lose or break your current set of retainers, you would not need to come in to get new molds taken. Your replacmeent retainers would be ready for use at home.
The digital scan is stored permanently with Invisalign. It is unlikely that someone would quickly go through 4 sets of retainers, but this means that Invisalign will always have your file available for future orders.
The goal is to ensure continued clinical retention as well as providing you with a cost-effective solution long-term. Vivera retainers were clearly created to fit into your busy lifestyle. They lock in your beautiful smile invisibly, whether you're in the class room or board room-allowing you to be confident and comfortable wearing them at any time, day or night.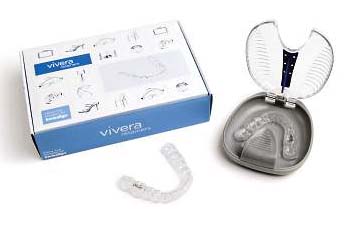 ---
For a complimentary examination appointment to see if you have a dental alignment problem and what treatment would be right for you, please contact us online or call 650-961-5047.
We'll answer any questions you may have, and give you a free written estimate regarding costs and insurance benefits before you leave.
Dr. Ashouri



---
Dr Ashouri | Testimonials | Insurances we use | Forms |  Orthodontics | Adult Orthodontics | Children's Braces | Invisalign | VPro | Dental Headgear | Nightguard  | Retainers | Crooked Teeth | Overbite | Under Bite | Cross Bite | Open Bite | Buck Teeth | Thumb Sucking | Tongue Thrust | Bruxism | Sleep Apnea | Map | Contact Us
©2006 Nahal Ashouri DDS MS